Resident Research Day and Goodman Competition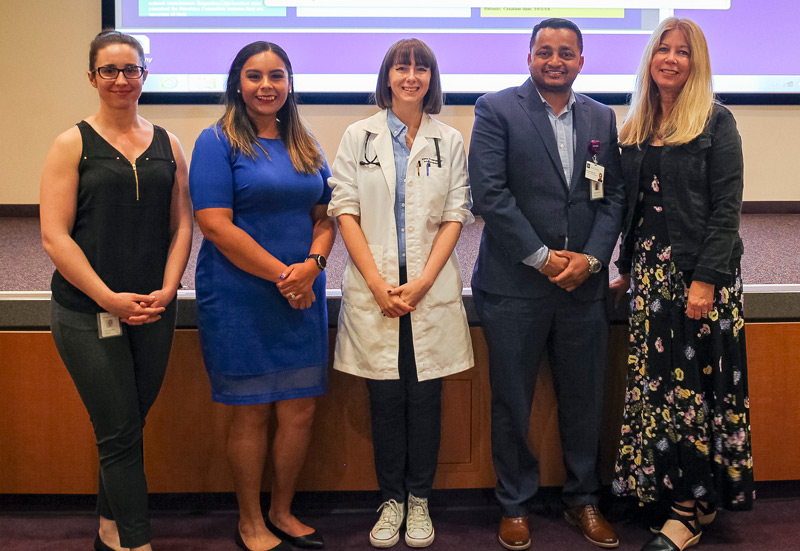 Nancy Brick-Goodman (far right), wife of the late Phillip H. Goodman, stands with Goodman Competition participants from left: Sarah Hand, M.D. '16, third-year family medicine resident; Emmanuelle Garcia-Rider, M.D. '18, competition winner and first-year psychiatry resident; Elena Proshkina, M.D., competition runner up and third-year internal medicine resident; and Dharmendra Goyal, third-year child and adolescent psychiatry fellow.
The annual Resident/Fellow Research Day and Phillip H. Goodman Competition were held Thursday, May 30 at Renown Regional Medical Center and organized by UNR Med's Office of Graduate Medical Education.
Top presentation awards for Resident/ Fellow Research Day were awarded to first-year internal medicine resident Daniel Antwi-Amoabeng, M.D., for his presented case study "Vaping is not safe: A case of acute eosinophilic pneumonia following cannabis vapor inhalation" and to second-year internal medicine resident Heather Cale, M.D., for her presentation of a bioethics case "Is non-emergent involuntary treatment ever warranted?: An ethics case report and discussion."
The Phillip H. Goodman Award in Resident Excellence in Critical Appraisal was presented to first-year psychiatry resident Emmanuelle Garcia-Rider, M.D. '18, for her analysis of the article "Association of hormonal contraception with suicide attempts and suicides." Third-year internal medicine resident Elena Proshkina, M.D., was the runner up for her analysis of the article "Associations of omega-3 fatty acid supplement use with cardiovascular disease risks."
Special thanks to the UNR Med Office of Medical Research for sponsoring Research Day and to the family and friends of Phillip H. Goodman for supporting the Goodman Competition.
David Carlson, UNR Med associate dean of graduate medical education with Heather Cale, M.D., second-year internal medicine resident and one of the two top presenters for Resident/Fellow Research Day.