Northern Nevada Cleft Palate Clinic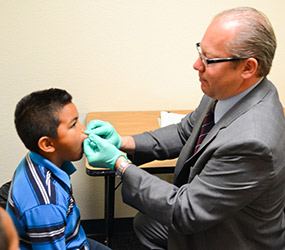 Cleft lip with or without cleft palate is one of the most common birth anomalies in the U.S., occurring in nearly eight out of 10,000 births.
A cleft lip is a separation of the two sides of the lip, often including the bones of the upper jaw and/ or upper gum. A cleft palate is an opening in the roof of the mouth where the two sides of the palate did not fuse together during development of the unborn baby. Because the lip and palate develop separately, a child may have a cleft lip, a cleft palate or both.
Housed within the School of Medicine's Department of Speech Pathology and Audiology, the Northern Nevada Cleft Palate Clinic is dedicated to the care and treatment of children with cleft lip, cleft palate and other craniofacial disorders.
A team of volunteer health care professionals meets on the first Friday of each month and represents a variety of specialties—including plastic surgery, speech pathology, orthodontia, pediatric dentistry, oralmaxillary surgery, otolaryngology, audiology, genetics and pediatrics. The team evaluates about 150 children per year, providing all services in one day at one location at no cost to the patient.
Patients may call for appointments or be referred by a physician or other agency. To learn more about the Northern Nevada Cleft Palate Clinic, please contact the department of speech pathology and audiology at (775) 784-4887.