---
Class Chat
To share your latest and greatest accomplishments, email alumni@med.unr.edu.
Accompanying photos are always appreciated.
---
Linda L. Bott '81 M.S. (speech language pathology) and her husband, John, have lived in La Paz, Mexico, the capital of Baja California Sur, for the past six years. Following their move in 2013, Bott began partnering with Voces de Niño, a nonprofit, home-based therapy program that provides speech and language therapy services for children and adolescents who are within the autism spectrum or have developmental delays, cleft lip and/ or cleft palate, unspecified speech sound production and/or receptive/expressive language delays. Voces de Niño is based on a team approach, which includes the child or adolescent, their parents, the therapist and parent facilitators. During Bott's nearly 40-year career in the U.S., she worked in hospitals, home care, skilled nursing facilities and rural school districts..
Larry A. Levine, M.D. '91, '86 (electrical engineering)and his daughter Danielle made history in February as the first father- daughter team to compete in the Iron Dog, the longest highspeed cross-country snowmobile race in the world. Danielle, a current mechanical engineering student at the University of Nevada, Reno, was able to fit training around her class schedule with the help of some accommodating University professors. Dr. Levine and Danielle were one of just 13 pro-class teams to complete the challenging 1,977-mile course.
Asma Ismail, Ph.D. '86 (cellular and molecular biology), '80 (biology), has been appointed chairperson of the Malaysian Qualifications Agency , the accrediting body of Malaysia's higher education, through 2021. Ismail has served as the vice-chancellor of Universiti Sains Malaysia in Northern Malaysia since 2016. Prior to this position, Ismail was vice-chancellor of Universiti Sains Islam Malaysia making her the first woman in the country to have been appointed vice-chancellor for two public universities. Ismail became the first female president of the Academy of Science Malaysia in 2016, a position she will maintain through 2019.
The work of Marilyn R. Melton '86 (honorary degree)was featured throughout January 2019 at Swill Coffee and Wine in Reno. The 12 watercolor pieces in the "Health Blooms Show" featured various flowers in inspired pots. Proceeds benefited the Community Health Alliance Foundation, a local organization that provides children, families and individuals access to medical and dental services. Melton is a third generation native Nevadan. She has served on many local boards, engaged in community activism for human services, the arts and environment, been a co-owner of an art gallery and has shown her work in a variety of locales.
Stephanie Ball, M.D. '85, '81 (biology), has returned to Reno after 14 months as volunteer medical director for a primary care clinic in rural Kenya near Lake Victoria. While there, Dr. Ball revived the adolescent support group for youth and friends of youth living with HIV. She is most proud of improving processes, which resulted in better monitoring for 500 patients in active care. Through enhanced monitoring, the number of patients with "undetectable viral load" – meaning treatment has brought the level of HIV in their bodies to such small quantities that blood tests cannot detect it – increased from about 90% to about 97%. She is happy to be home, getting involved in progressive politics and justice efforts in the great state of Nevada.
Jennifer Hagen, M.D. '93, '98R, '16F, UNR Med professor and senior associate dean for faculty, has been accepted to the Rudi Ansbacher Women in Academic Medicine Leadership Scholars Program at the University of Michigan Medical School. The intensive 18-month leadership development program is open to individuals in significant leadership roles who have demonstrated a commitment to supporting the advancement of women. According to the program, members of the cohort will receive "insights about their leadership strengths and challenges to facilitate self-awareness and opportunities for growth."
Michelle L. Danielson, M.D. '02, was voted Best Pediatrician in the 2018 Best of Helena contest, held annually by The Independent Record in Helena, Montana. A pediatrician at Partners in Pediatrics, Dr. Danielson has served her community for over 12 years. As a member of the Lewis and Clark County Child Advocacy Center's multidisciplinary team, she also provides care for abused children. Danielson enjoys volunteering in underserved areas and has provided care at health clinics as part of medical missions to Grenada, Honduras and Mexico
Timothy Dooley, M.D. '11, has joined the team at Great Basin Orthopaedics. The position brings Dr. Dooley home to Reno, following a hand surgery fellowship at the world-renowned Christine M. Kleinert Institute for Hand and Micro Surgery in Louisville, Kentucky. While he is qualified to treat all areas of the body, Dooley is especially interested in the hand and upper extremities. Dooley is a candidate member of American Academy of Orthopaedic Surgeons, American Society for Surgery of the Hand; a member of the Nevada Orthopaedic Society and community adjunct faculty at the University of Nevada, Reno School of Medicine. When he's not practicing medicine, Dooley enjoys
Sehyr Imran, M.D. '18R, and Samrat U. Das, former UNR Med pediatrics program director, published an article in the October 2018 issue of the Journal of Investigative Medicine titled "Association Between Socioeconomic Status and Risk of Hospitalization Due to Child Maltreatment in the USA." According to the article, this is the first report studying the association between socioeconomic status and general child maltreatment among hospitalized U.S. children.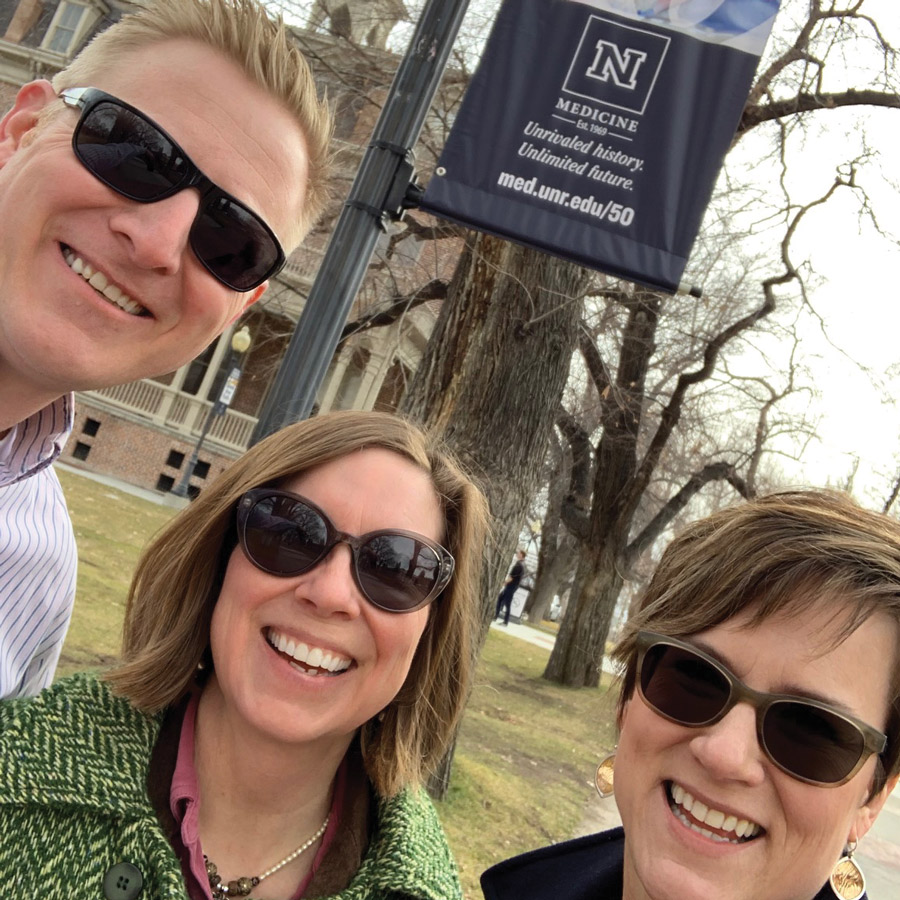 While enjoying a walk around campus, School of Medicine faculty members Tim Baker, M.D. '04, associate professor and associate dean of medical education; Jennifer Hagen, M.D. '93, '98R, '16F, professor and senior associate dean for faculty; and Kristen Alexander '08 (business management), operations manager, reacted with pride and happiness after spotting a UNR Med 50th anniversary banner.